Chicken Quiche
Quiche based on shortcrust pastry with chicken and cheese filling. An excellent appetizer and a replacement for bread for first courses.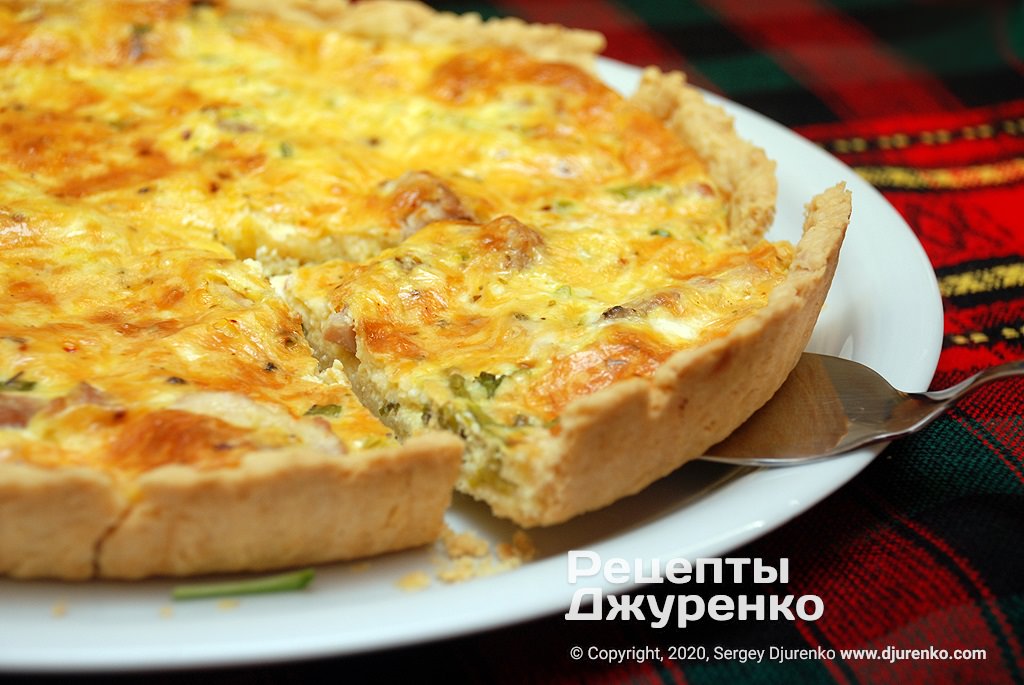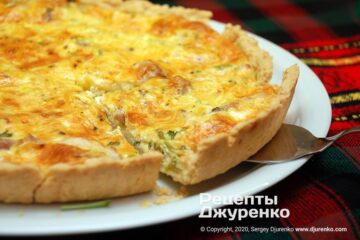 Quiche is usually prepared in small quantities – for one meal or served as an addition to first courses.
The original version of the dish was a type of Lorraine tart – better known as Quiche Lorraine. It is an open shortbread pie with the filling consisting of egg-cream and Gruyère cheese mixture and finely chopped smoked bacon. Gradually more and more varieties appeared that would be drastically different from each other.
Grilled chicken and baked unsweetened custard combination is delicious.
In most cases, chicken fillet is used – white meat. It is a little dry and the filling will be denser. The thigh is more tender and softer, which allows you to prepare a juicy filling. If the quiche is prepared as an independent dish, you should choose fillet, and if as an addition to first courses, I would prefer dark meat.
Making quiche is not difficult at all. It is important to thoroughly knead the shortbread dough, carefully roll it out and press into the springform pan. Chicken meat should be grilled with no oil and sliced into strips. For the filling we use cream and eggs with grated cheese. Included some herbs and spices. Quiche is baked until the filling is golden on top and set inside.
Ingredients
Pastry case

All-purpose flour

200g

Butter

100g

Egg (yolk)

1

Salt

additives

Filling

Chicken fillet or black meat

150g

Eggs (+ additional white)

2

Cheese (Gruyère, Emmental, Cheddar, Swiss, Radamer)

100g

Green onion

2-3

Cream (30-33%)

150ml

Salt, black pepper, oregano, curry

spices
Step-by-step recipe
Before you begin: take the butter out of the fridge to bring it to room temperature. If the chicken has been stored in the freezer – defrost it.
How to quickly make the shortbread crust
You can't go wrong with shortbread crust: just mix all the ingredients and knead the dough thoroughly. Use a large bowl for this. You will have a large dense ball of dough.
Sift 200g of flour, add a pinch of salt and an egg yolk. Keep the egg white for the filling.
Add softened butter and 1 tbsp room temperature water. Knead the dough thoroughly to remove all lumps and form a uniform ball. Cover the bowl with a napkin or a paper towel.
Preparing the filling
Clean chicken fillet from skin, bones and fat. Delicately tenderize to make pieces thinner and about the same size.
Now it is time to fry it: use whichever method you prefer, but smoky grilled chicken is fantastic for quiche. Fry on both sides until ready and slightly golden. Use some vegetable oil if necessary.
Mix 2 eggs and the kept egg white in a large bowl, add 150ml cream. Salt, pepper add 1-2 pinches of dried oregano and a pinch of curry mixture. Add 150g finely grated cheese. Now stir the mixture thoroughly.

Prepare a metal baking dish. It is better to use a springform pan, because the baked crust may crumble.
Spread the dough in the pan. It should be 3-4 mm thick and the sides should be 3-3.5 cm high in order for the filling to fit.
Cut the cooled down chicken into cubes. Spread it evenly over the dough. Finely chop a green onion feather and sprinkle over the chicken. You can add a few tbsp of finely chopped dill, parsley, cilantro, garlic — anything you like. But it is not necessary.
Now the important part: adding the egg-cream mixture. Use a spoon to add small amounts of the mixture moving from the edges towards the centre. It will allow to cover the chicken evenly. If the mixture levels with the sides of the crust — remove a bit of the filling and bake separately. Do not pour over the sides, otherwise everything will spill and burn. Preheat the oven to 190-200°C.
Baking the Chicken Quiche
Bake in the oven for 45-60 minutes.
When the top of the quiche looks firm and golden-yellow — it is done. Insert a skewer into the centre if you are unsure: it should come out clean.
Carefully remove the springform pan out of the oven — it is really hot. Place on a wooden cutting board and let it cool for at least 10-15 min.
Remove the springform and cut into portions. Personally, I prefer eating quiche cooled down but still warm.
Prepared Chicken Quiche may be served both hot and cooled down.
If it is an independent dish: better serve it hot. But if used as an addition to first courses instead of bread — serve it cooled.
If you want: sprinkle the quiche with some fresh greens or with leaves of basil or small spinach before serving.
Chicken Quiche with grilled chicken and egg-cream filling. Enjoy!
Recipe facts
| | |
| --- | --- |
| Servings: | 6-8 servings |
| Calories: | 280 |
| Prep: | 30min |
| Cook: | 1h |
| Total: | 1h 30min |
| Category: | Baking |
| Cuisine: | European |
| Rating: | |