Homemade falafel
Falafel is a delicious type of home and street food in the Middle East. Made with mashed chickpeas and deep fried.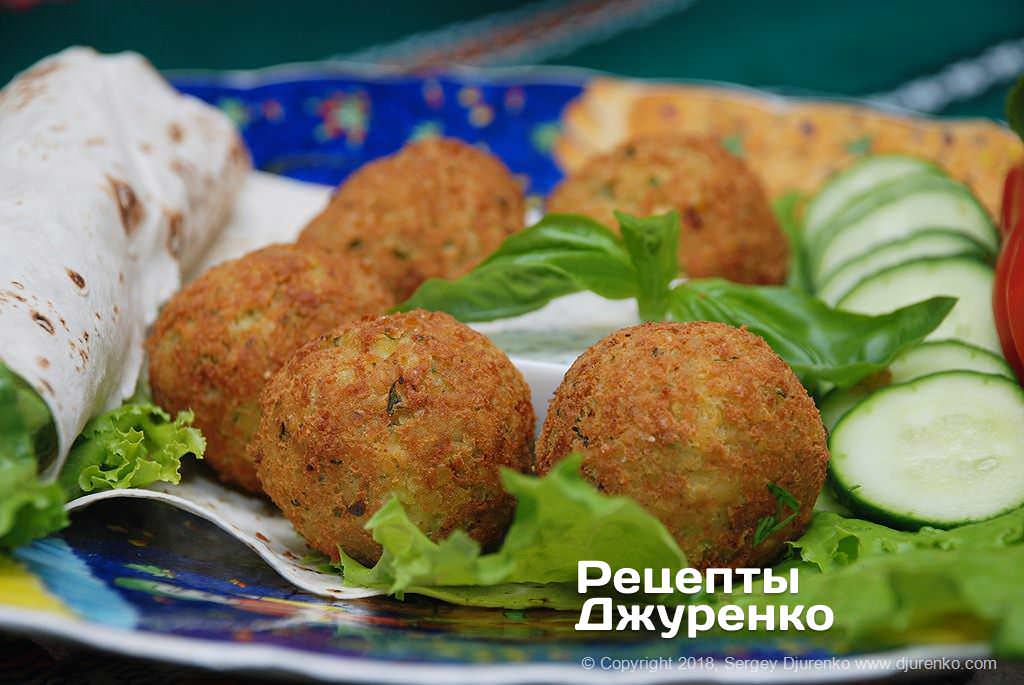 It was 25 years ago in Egypt when I first tried deep fried balls made with chickpeas – in its historical homeland, so to speak.
It is believed that falafel originated in Egypt, some even say that the history of the dish goes back to the Copts in the 4th century, or even Pharaonic Egypt.
There are many different theories, but they all come together that falafel is an ancient dish.
If a country produces beans or chickpeas in large amounts, then they do cook falafel. It is a staple food in the Middle East, meat replacement for vegetarians and high-quality street food all over the world.
There are many explanations to the name of the dish, but it seems that the Copts phrase Φα Λα Φελ (pha la phel) – "it has lots of beans" describes it precisely. However, there are no such words in official dictionaries of the language.
Falafels are prepared with any ground beans. Usually, it is chickpeas or chickpeas with fava beans. Parsley and green onion are used to colour balls green, as well as lots of spices to add flavour and curry to make falafel more yellow.
Initially in Europe and the US, falafel appeared in Arabic eateries, along with chickpea hummus. It quickly became popular and took its place in catering.
It is usually served in a pita or a flatbread with sesame sauce, lettuce and vegetables. A sort of vegetarian shawarma.
It is very simple. Beans or chickpeas are soaked, boiled until ready, mixed with spices and additives. After grinding, small balls are formed, which are fried in a pan or deep-fried.
After cooking falafels remain soft inside while the shell turns golden and crispy. The colour is used to judge whether they are sufficiently fried, or you must fry falafels for a couple minutes more.
To reduce the amount of fat, which is well absorbed, falafel can be baked in the oven.
Ingredients
Chickpeas

0.5kg (1.1lbs)

Hot pepper

1

Onion (if you wish)

1

Garlic

1-2 cloves

Greens (cilantro, dill, parsley)

0.5 bunch

Vegetable oil for deep frying

0.5 litre

Salt, black pepper, coriander, zira

spices

Tahini, lettuce, fresh vegetables, pita bread, yogurt sauce, herbs

for serving
Step-by-step recipe
We will use chickpeas for our falafels. Dry chickpeas are quite problematic to cook, so they are soaked for at least 5 hours. They are usually soaked in the evening, so you can start cooking the next day.

Thoroughly rinse chickpeas – they may be dusty. Add the chickpeas to a large container and fill with water so that it covers the beans. Put in the refrigerator.

Preparing chickpeas
Drain the water after soaking, rinse chickpeas and remove all spoiled beans – these are dark. You can boil chickpeas before mashing them if you like.

There are two ways of mashing chickpeas. You can obtain smooth textured falafel by using a blender or a potato masher to create a thin paste. Or you can make your falafel rougher by using a mincer. Choose the variant you prefer – it would turn out great.
Add a pinch of salt, ground in a mortar black pepper, coriander and cumin. Everything is to taste, but keep in mind that well-seasoned chickpeas taste better.
Add finely chopped onion, garlic and greens mashed into paste.
You can add 1 small, peeled and finely chopped hot pepper if you like.
Preparing falafels for frying
Mix the chickpeas and the additives thoroughly, so you get a uniform mixture. You can add more specific ingredients or spices. For example, more curry or turmeric will make falafels nicely yellow.

Wet your hands with cold water. Take some of the mixture and mould into balls a little smaller than an egg.
Press them firmly so that they remain balls after frying, and place on a plate.
How to cook falafels
Almost any oil is suitable for deep-frying — olive, sunflower, sesame, etc. It is important that oil is refined, otherwise it may smoke when frying.
Heat oil in a small saucepan until it starts bubbling then lower the temperature.
Now be very careful: the oil is hot, so keep your face at a distance and avoid dripping water into the oil.
Instead of deep-frying you can bake them or simply fry on a pan.
The process is really fast, 1-2 min, so it is best to fry 2-3 balls at a time so there will be time to take them out.
Carefully drop falafels into hot oil – it will seethe noticeably.
In 20-30 sec the surface of falafel will change to golden or light brown – falafel is ready.
Use a spoon or a skimmer to remove falafels, put them on a plate lined with paper towels.
Serving falafel
We made sauce from yogurt, cucumber, herbs and garlic. Greek tzatziki sauce is also good. You don't need it too much. You can also serve falafel with tahini.
Put thin flatbread with greens and a few leaves of lettuce on a large plate. Add a small bowl of sauce and chopped fresh vegetables. Spread cooled fried chickpea balls – 4-6 pieces per serving.
Serve to the table.
Falafel is eaten with hands. Just dip a ball into sauce and take a bite. The golden crust does not allow the falafels to fall apart, while in the middle each ball is soft and loose.
Chickpea falafels with spices and herbs – delicious and unusual, worth a try!
Recipe facts
| | |
| --- | --- |
| Falafels: | 16-20 pcs |
| Calories: | 333 |
| Prep: | 1h 30min |
| Cook: | 30 min |
| Total: | 2 h (not including soaking) |
| Category: | Snacks and Sauces |
| Cuisine: | European |
| Rating: | |