Eggplant caviar
Eggplant caviar - a famous appetizer! The most common way to prepare vegetable caviar is to fry vegetables and grind them.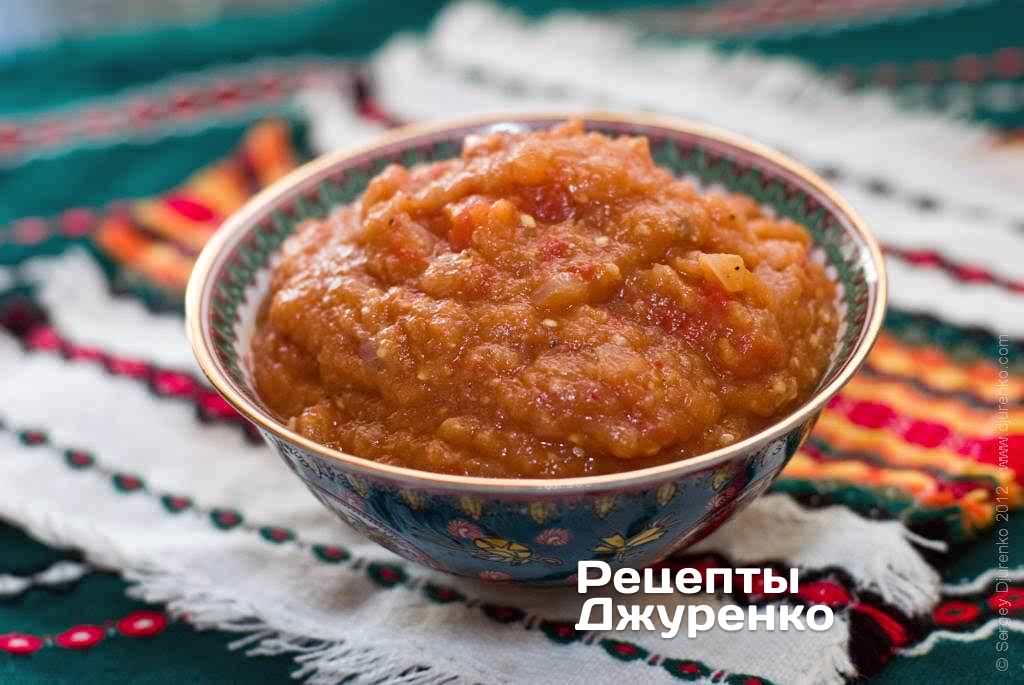 Any vegetable caviar (marrow, aubergine or mushroom) is a cold appetizer. Unlike salad, caviar is thick, and pieces are smaller. Also, vegetable caviar is processed thermally and then cooled down.
Ingredients
Eggplants

3-4 pcs

Onion

2 pcs

Tomatoes

0.5kg

Garlic

3-4 cloves

Bell pepper

2-3 pcs

Vegetable oil

100ml

Balsamic vinegar

if you like

Salt, ground black pepper

to taste
Step-by-step recipe
Other cuisines have similar dishes. In the cuisines of Romania and Moldova – salată de vinete, "eggplant salad". Eggplants are baked, peeled and finely chopped with garlic and herbs added. In Jewish cuisine — onions, dill, sometimes tomatoes and garlic are added to baked eggplant. In the East, they prepare a snack, baba ganush — eggplants and tahini paste.
Eggplants must be baked or fried. But for three reasons, baking is better:
1. When frying, eggplants absorb a lot of oil, just like a sponge.
2. For frying, eggplant needs to be cut, and raw eggplant instantly darkens in the air. This does not happen when baking.
3. It's simply faster.
How to bake eggplants?
1) You can use an oven. It is easy and fast. 10-15 minutes at 200-220°C.

2) Or you can use a microwave. Wash eggplant, wipe dry and coat with vegetable oil. Pierce the eggplant through with a thin knife. Three large eggplants require 10 minutes at full power (800W).

Leave the baked eggplants to cool down on a plate.
Bake bell peppers as well. 7-10 minutes in an oven or 5 minutes in a microwave. It is important that the outer shell peels off.
Peel the eggplants after cooling from the outer shell — it is like a plastic wrap.
If the eggplant is overripe, remove seeds with a spoon.

Peel the baked peppers from the outer shell and seeds.
Put the baked eggplants, peppers and garlic into a blender. Grind everything to a puree.
Scald the tomatoes with boiling water, remove the skin and seeds. Cut flesh coarsely.
Peel and finely chop the onion. Add oil to a saucepan and fry the onion on the smallest heat under the lid.
The onion should become soft, ruddy and sweet in taste.
Add the chopped tomatoes and stew under the lid for 15 minutes.
Salt and pepper onion with tomato.
Add mashed eggplants, peppers and garlic.
Mix.
Stew on low heat for 10 minutes. Salt if necessary.
Add 1-2 tsp. of balsamic vinegar or lemon juice. To taste!
Remove saucepan from heat and let cool to room temperature.
Transfer the eggplant caviar to a container and put in a refrigerator.
Eggplant caviar – is a cold appetizer.
If you want to make preserved eggplant caviar, then add a bit more oil and let caviar to boil for 5-10 minutes before canning sterilization process.
Recipe facts
| | |
| --- | --- |
| Portions: | 6 portions |
| Calories: | 90 |
| Prep: | 30 min |
| Cook: | 30 min |
| Total: | 60 min |
| Category: | Snacks and Sauces |
| Cuisine: | European |
| Rating: | |