Pepperoni Pizza
Homemade pepperoni pizza is made with yeast dough, pepperoni sausage or spicy salami, delicious tomato sauce and mozzarella.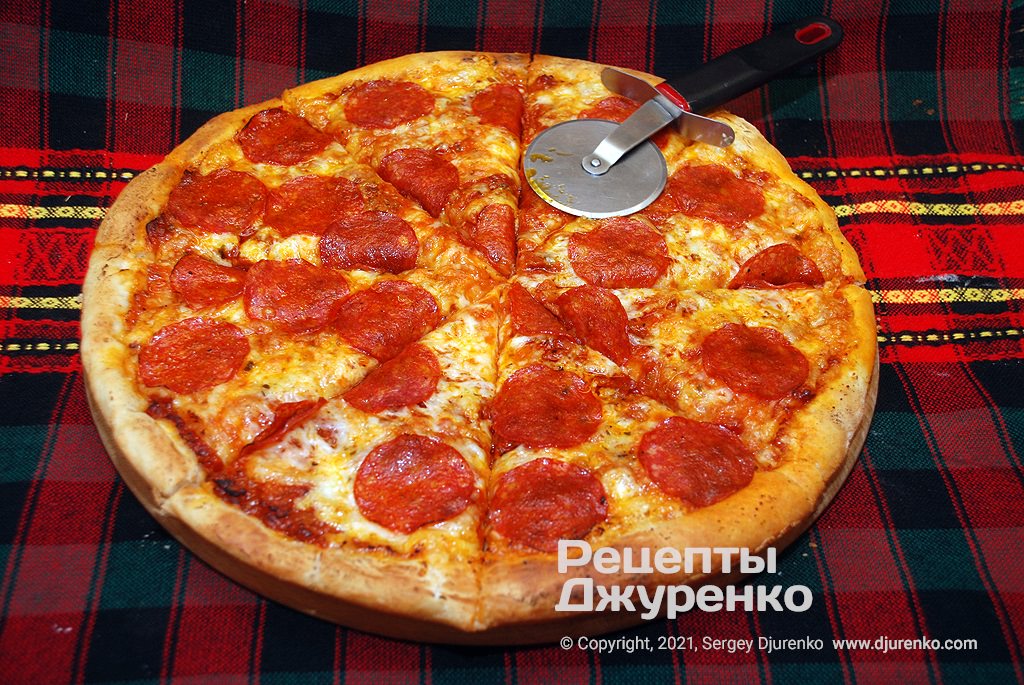 World famous pepperoni pizza has American roots. The name comes from the spicy variety of salami. It is usually made from pork, but beef or chicken variants are also available. Strictly speaking this is a type of Italian salsiccia Napoletana piccante sausage.
Traditional Pepperoni Pizza is one of the most popular along with Pizza Margherita and a cheese pizza – Four Cheese Pizza.
Perhaps it is so popular because of simplicity though at the same time luxurious topping.
Pepperoni is sold in stores. A quality real product is quite expensive, so it makes sense to buy cuts in the required quantity. Alternatively, you can buy good salami and pepper it with red pepper and add more spices and garlic to the sauce.
Ingredients
Dough for Pizza

400g

Pizza Sauce

Chopped tomatoes

400g

Small onion

1

Garlic

2-3 cloves

Hot pepper

0.5

Olive oil

2 tbsp

Dry herbs (mixture), hot pepper, salt, sugar, balsamic vinegar

spices

Toppings

Mozzarella

200g

Pepperoni or spicy salami

80g

Parmesan

if you want

Oregano, olive oil

additives
Step-by-step recipe
About the dough for Pepperoni Pizza: thin or thick, crispy or fluffy – it will be delicious anyway. I will make the classic yeast dough for pizza, it is easy to prepare and failsafe.

There is a trick: if you want crust to be thin then add toppings immediately after rolling out the dough. But if you want it to be fluffier – roll the dough out and let it rest for 30 minutes.

How to make tomato sauce for pizza?
In summer you can use fresh tomatoes, but it is more convenient to use canned chopped tomatoes. We are also using onion and garlic, as well as some spices.
It takes 10-15 minutes to prepare.
Use a small onion or ½ of a larger one. Peel onion and cut into small pieces. Peel garlic. If you are using regular salami – add a bit more garlic. Finely chop garlic and hot pepper.
Add 2 tbsp of olive oil into a saucepan and sauté chopped onion until soft.
Crush tomato pulp a bit more but let small pieces to remain.
Add garlic and hot pepper into saucepan, fry for 1-2 minutes, constantly stirring. Add chopped tomatoes.
Salt to taste, add ½ tsp of sugar and 1-2 pinches of dried herbs mixture (essentials are oregano and basil).
Stew under the lid for 7-8 minutes on medium-low heat. Add ground black pepper to taste.
Remove the lid and add heat. While stirring the sauce, evaporate excess water. Sauce should be slightly thicker than ketchup.
Let it cool.

Toppings preparation
Use pepperoni or pepper the salami. It is better to choose a sausage of a smaller diameter – it will look better.
Mozzarella can be used as small or large balls, or just buy a large piece of low-moisture mozzarella that can be easily grated.
Roll out the dough in a desired way.
Lavishly cover the pizza with the cooled down sauce, leaving 1 cm crust around the edges. If you want pizza to be even spicier – additionally pepper the sauce or sprinkle with finely chopped chili pepper.
Remove mozzarella from salted water and grate it.
Spread mozzarella evenly over the sauce.
Sprinkle with a pinch of dry oregano.
Top pizza with sliced pepperoni or prepared salami. Start at the corners and go towards the centre of the crust.
If there are some pieces left — eat them immediately!
I like to sprinkle an extra 1 tbsp of finely grated parmesan on the pizza, though most don't do this. But it is necessary to sprinkle pizza with olive oil — just 1-2 tsp.
Baking pepperoni pizza
Preheat the oven to 180°C. It will take 20 minutes to bake.
Set the temperature higher — the baking time will be reduced.
Place the pizza in the oven and bake until crust is golden brown.
When the pizza is ready, carefully slide it to a wooden cutting board and using a pizza cutter — cut into 6 slices.
Let them cool for a few minutes and enjoy the delicious pepperoni pizza.
Homemade pizza with pepperoni or spicy salami — unusual and delicious. Enjoy!
Recipe facts
| | |
| --- | --- |
| Pizza: | 36cm pizza |
| Calories: | 140 |
| Prep: | 30 min |
| Cook: | 30 min |
| Total: | 1 hour (without dough preparation) |
| Category: | Pizza |
| Cuisine: | European |
| Rating: | |