Pasta Carbonara
Pasta Carbonara — spaghetti with bacon and egg sauce. Classic dish of Italian cuisine. Simple step-by-step recipe.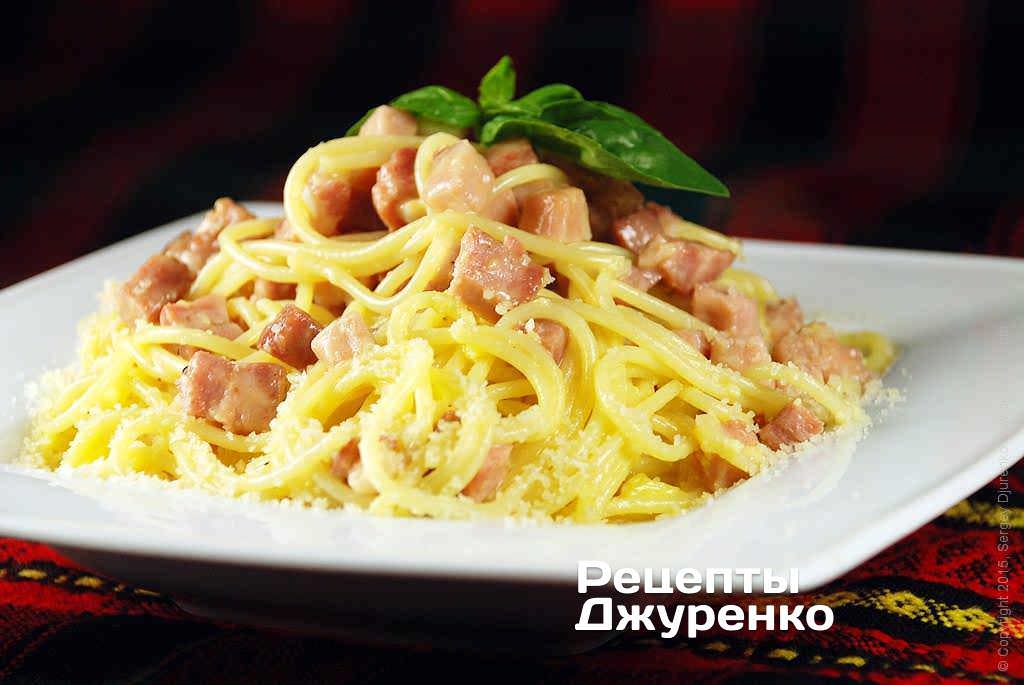 Traditional Italian dish — Pasta alla carbonara.
Spaghetti is the main type of pasta used for this dish. It is 2 mm in diameter, commonly longer than 15 cm. Thinner spaghetti is called "spaghettini" and thicker spaghetti is called "spaghettoni".
For spaghetti, as a rule, sauces are prepared on the basis of olive oil, which evenly linger on pasta, literally "stick" to it. Italian lasagna however is stacked in layers and baked with meat sauce in between.
One of these sauces is Carbonara Sauce.
Carbonara Sauce is prepared with small pieces of bacon or ham. But this is due to the lack of Italian guanciale in the wide sale.
Ingredients
Spaghetti

250g

Bacon, pancetta or guanciale

200g

Extra-virgin olive oil

1 tablespoon

Parmesan

30g

Garlic cloves

2

Eggs

3

Salt and freshly ground black peppe

to taste
Step-by-step recipe
Pasta Carbonara has long been a tradition in Italy, especially in the central region of Lazio, which capital is Rome. Carbonara, so they say, was first prepared after the end of World War II, when together with the allied troops, a lot of dry egg powder and traditional American bacon was brought to Italy.

Gradually, bacon was replaced with local products, egg powder with fresh eggs, and the art of making carbonara sauce was brought to perfection. Though, as far as I understand, pancetta is only used in Italy, while traditional bacon is used all over the world.

It is worth mentioning that Carbonara, like any pasta, a dish for the "poor", has a strong flavour and high calorie rate. It is easy to be cooked at home. Carbonara sauce is not used with short and curly pasta. The most commonly used variant is spaghetti. Spaghetti carbonara, if you like.

When choosing Spaghetti for this dish, it has to be of the highest quality. Firstly, you are cooking for yourself-beloved, and secondly, good spaghetti "holds" the sauce much better. Well, thirdly — do not get used to eating consumer goods.

To choose good spaghetti you can simply compare them visually with others. Good spaghetti has a light, matte-rough surface that holds the sauce much better after cooking. The glossy surface of the spaghetti will cause them to just float in the sauce.

Put a large saucepan of water to boil. Add 1 teaspoon salt and wait until it boils. Then add spaghetti and boil until "al dente" (7-10 min).
While the spaghetti is cooking, pour the olive oil into the frying pan. When it is heated — tip in two peeled and crushed garlic cloves. The task of garlic is to flavour the oil. Take it out when it gets golden.

Chop the bacon (guanciale, pancetta) into cubes or strips.
Next, add the chopped bacon. Fry until the bacon pieces are golden and slightly crisp.
Beat 1 egg and 2 yolks (remove 2 whites in a separate bowl) in a bowl.
Season with a bit of salt and freshly grounded black pepper.
Finely grate parmesan cheese.
Mix most of the cheese with the eggs. Keep some cheese for sprinkling over later.
If the sauce is too thick — add a bit of water in which the spaghetti was boiled.
Using pasta tongs or colander, remove the spaghetti and place them in the frying pan. Mix it well with the bacon.
Now quickly pour in the eggs and cheese mixture, so that the spaghetti is evenly coated with the sauce.
Serve the pasta immediately while it is hot!
Pasta Carbonara is spaghetti with bacon and egg sauce.
Recipe facts
| | |
| --- | --- |
| Servings: | 2 servings |
| Calories: | 345 |
| Prep: | 10 min |
| Cook: | 20 min |
| Total: | 30 min |
| Category: | Main Dishes |
| Cuisine: | European |
| Rating: | |