Enchilada
Enchilada with chicken, beans and sweet peppers, made in wheat or corn tortillas, baked with spicy tomato sauce.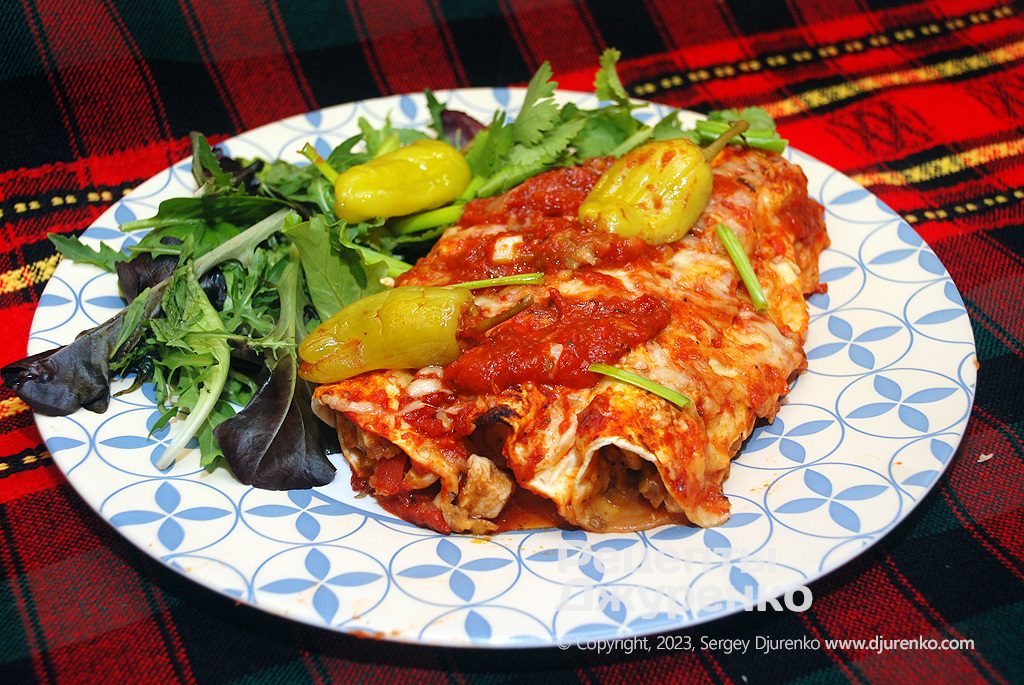 A simple Mexican dish enchilada is stuffed tortilla baked with sauce. The filling ingredients vary case-by-case, and in Central America it is different in different regions.
I cook with chicken fillet, beans and peppers – this is my favourite option. I serve the dish with spicy salsa and pickled hot peppers, and cover in tomato chili sauce.
The classic enchilada recipe usually uses corn tortilla, but you can use wheat tortilla for a homemade one.
The sauce for baking can contain tomatoes or just peppers, any colour and spiciness.
Ingredients
Prepared tortillas

6

Chicken fillet

1

Onion

1

Sweet pepper

1

Chili pepper

1

Pickled peppers

7-8

Cooked beans

100g

Cilantro (optional)

0.5 bunch

Garlic

2-3 cloves

Tomato pulp

300g

Vegetable oil

3-4 tbsp

Cheddar cheese

50g

Salt, black pepper, cumin, coriander, sugar, hot pepper (coarsely ground)

spices

Greens

for serving
Step-by-step recipe
Enchiladas are often made with chicken, although there are many other variations. The filling contains a lot of onions, peppers and spiciness. Enchiladas can be fried, although they are usually soaked and baked in sauce with a cheese crust. Usually, sauce for enchiladas is mole – made from pepper and broth, although tomato is often used as well, which is convenient when cooked at home.
You will need tortillas with a diameter slightly smaller than the baking dish: mine is 20 cm wide, so I bought ready-made tortillas with a diameter of 15-16 cm.

Let us prepare the sauce first.
Add chopped garlic and one chili pepper in a large frying pan and fry in vegetable oil for 2-3 minutes.

Gently scald ripe tomatoes with boiling water, remove skin and seeds. Grind the pulp using a knife or blender. Or use ready-made tomato pulp.

Pour the prepared tomatoes into the pan, add 0.5 tsp. sugar, salt, a pinch of cumin and coriander. To increase spiciness, you can add ground dried chili.

Simmer the sauce under the lid over medium heat for 10 minutes.

Beans must be boiled in advance. Or just use canned beans, rinse them after opening.

Cut the chicken fillet into small cubes. Heat a little vegetable oil in a frying pan and fry the chicken until white. Add onion and chopped bell pepper.

Fry the chicken with vegetables until onion becomes soft. Salt and pepper. Add some ground dried chili to make enchilada even spicier.

Add prepared beans, mix.

Add 1-2 tbsp of prepared sauce in which the tortillas will be baked.
Stir and simmer for 5 min. The filling should be quite thick, so keep on heat until it is no longer watery.
Let it cool down before moving on.
Add some coriander if you like.
Prepare a baking dish that will hold 6 rolled tortillas.
Pour 1/3 of the prepared sauce into the dish and spread evenly.
Lay a tortilla on a plate. Put on it 1.5-2 tbsp of prepared chicken and vegetables filling. Spread the filling and wrap the tortilla into a roll 3-4 cm in diameter.
Put the wrapped enchilada over the sauce.
Wrap and lay other enchiladas the same way.
When done, cover enchiladas with all the remaining sauce, paying attention to fill the ends.
Grate cheese. Sprinkle it over the enchiladas. Scatter with slices chilli.
Preheat oven to 200°C and bake.
Since all the ingredients are cooked, you can take the dish out when the cheese is melted and a bit crispy. 30 min will be enough for tortillas to soak in the sauce.
Before serving, place the cooked tortilla with the filling on a plate using a turner. Cover with the sauce they were baked in.
Add a few peppers from the sauce and a bunch of fresh herbs to the plate: cilantro, green onions, rocket, lettuce.
Enchiladas cooked in tomato sauce are often referred to as entomatadas.
In addition to tomato sauce or mole, you can also find cheese options – very tasty. The filling may also include potatoes, beef or seafood. Not uncommon are vegetarian options. In addition, a few times I saw not rolled tortillas, but the filling and tortilla layers – like in Italian lasagna!
Mexican-style baked chicken tortillas are easy to make. Buen provecho!
Recipe facts
| | |
| --- | --- |
| Enchiladas: | 6 enchiladas |
| Calories: | 170 |
| Prep: | 30 min |
| Cook: | 30 min |
| Total: | 1 h |
| Category: | Main Dishes |
| Cuisine: | European |
| Rating: | |