Greek salad
Delicious and classic Greek Salad. Simple step-by-step recipe of one of the best appetizers to start a good meal.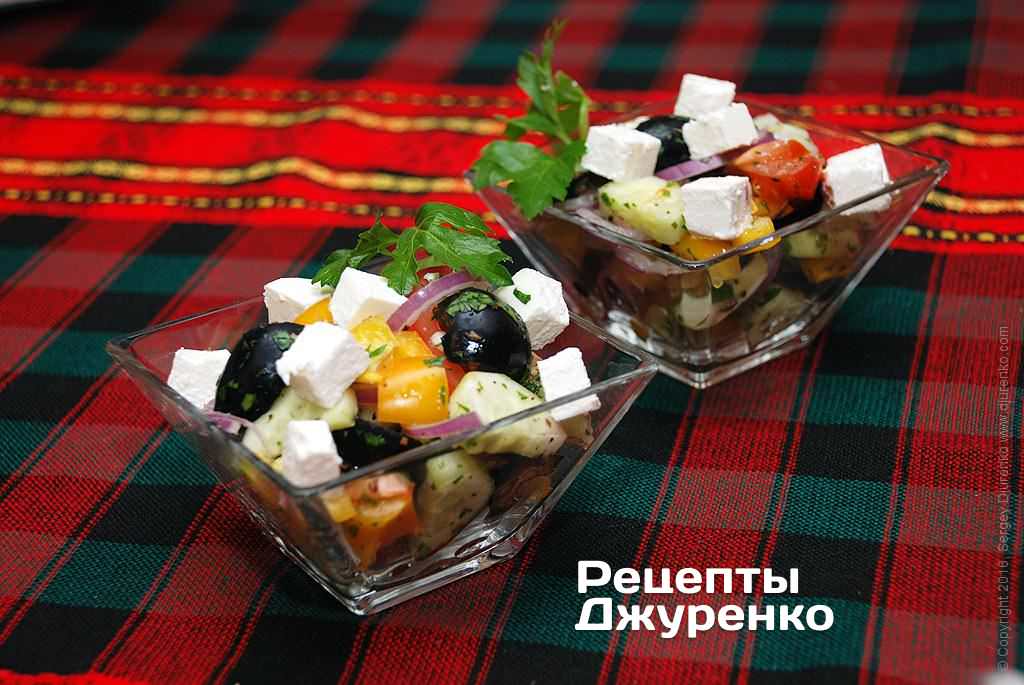 Greek cuisine belongs to Mediterranean and Balkan cuisine.
Elements of Greek national cuisine can be found in almost all European cuisines. An exceptionally delicious Greek salad which is made of fresh vegetables, olives and soft feta cheese – is one of the best appetizers to start a good meal.
All you need is to find fresh vegetables available all year round, soft feta cheese and the best extra virgin olive oil to make the perfect Greek salad.
The taste of the prepared dish is largely determined by the spices you add in. Rich selection of herbs and spices makes dishes fragrant and delicious.
Olive oil, usually local, is used widely and in large amounts. Olive groves are the symbol of Greece.
Feta cheese is the basis of the Greek vegetable salad — Horiatiki. It has snow-white colour, tender and buttery texture. Feta and Horiatiki salad are inseparable.

Ingredients для греческого салата
Cucumbers

2

Tomatoes

1

Red onion

1

Yellow or orange bell pepper

1

Kalamata olives, pitted

10-12

Parsley or basil

1-2 sprigs

Feta cheese

150g

Olive oil

50ml

Dried oregano, salt, freshly grounded black pepper

to taste
Step-by-step recipe
Only in the Peloponnese (Greece), the salad is called "horiatiki salad" — χωριάτικη σαλάτα.
For example, in neighbouring Bulgaria and other countries – it is already called Greek salad. The unique dish: light, healthy and very low-calorie, also contains a huge amount of minerals and vitamins.
Greeks always peel cucumbers before making salad. But they rarely add pepper to the salad. Onions are always red and sweet, but they never add beets and green salad to the dish.
There are many variations of this salad. It depends on where and by whom the salad is being made, but the essential ingredients: olives, feta, cucumber, tomatoes, spices and olive oil can always be found.

Peel cucumbers or leave them as they are. Cut cucumbers in half lengthwise and slice into thin, no more than 3 mm thick plates.

They should be big enough. The main feature of the dish is coarsely, not finely chopped vegetables.


Cut tomato in half and coarsely slice. Cut bell pepper into fine size cubes, big enough. Cut onion into half rings and separate, you should get straws.
Cut olives into circles or leave whole if they are small.
Mix ingredients in a bowl. Salt and pepper to taste. Add 2-3 pinches of dry oregano and finely chopped basil.
The best salad dressing is olive oil. Sprinkle Greek salad with some cold pressed olive oil.
Place in a salad bowl.
Cut feta cheese into large cubes and put on top, do not mix. Decorate with parsley or parsley sprigs.
The true Horiatiki salad is served cold. Keep it in a fridge for 30 min before serving.

Greek salad is an excellent appetizer before the main course, although sometimes it is served as a side dish.
Greek salad is a famous appetizer and a classic of Mediterranean cuisine.
Recipe facts
| | |
| --- | --- |
| Servings: | 2 servings |
| Calories греческого салата: | 87 |
| Prep: | 10 min |
| Cook: | 10 min |
| Total: | 20 min |
| Category: | Salads |
| Cuisine: | European |
| Rating: | |