Nalysnyky – thin pancakes recipe
Nalysnyky are thin pancakes made from simple milk-based batter. Just cook them and choose fillings you like.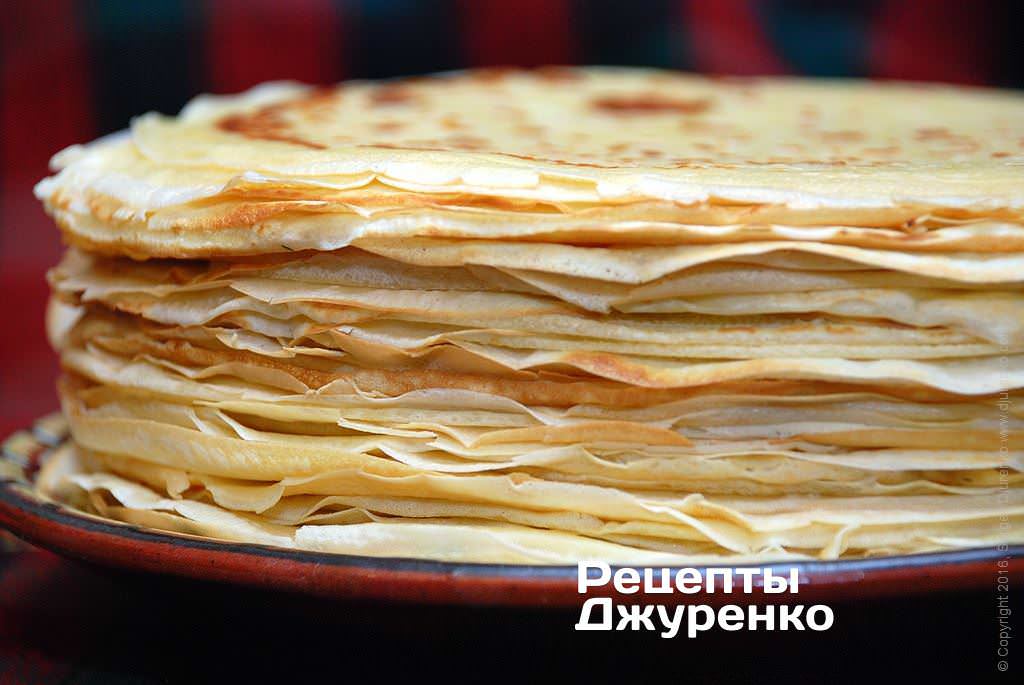 It is time to cook some thin pancakes! Decided to make nalysnyky with various fillings.
Nalisniki are extremely easy to prepare. This dish is a batter fried in a hot frying pan. All kinds of fillings are wrapped in them, and not necessarily sweet.
You can fill anything in thin pancakes: meat, fish (especially salted salmon), caviar, pâté or salad.
The Crown of Creation – pancake cake, multiple layers of thin pancakes with all kinds of fillings.
Ingredients
Milk

1 litre

Plain Flour

500-600g

Eggs

4

Piece of butter

50 g

Sugar

2 tbsp

Salt

1 tsp

Sunflower oil or vegetable

2 tbsp
Step-by-step recipe
Mix the contents of 4 eggs with 2 cups of cold milk. Add 2 tbsp. sugar and 1 incomplete tsp. fine salt.
With a mixer on low speed, whisk the eggs and milk until a smooth mixture is obtained.
Add 4 cups (500 g) of sifted flour.
Wisk the mixture until you get a batter that is the consistency of thick sour cream.
Keep whisking with mixer and slowly pour the remaining milk, until batter is as thick as single cream and flows easily from the spoon. Amount of the milk added may get up to 1 litre.

Add vegetable oil and stir.

Heat the pan on medium heat. Use a small piece of butter or salo (fatback) on a fork to evenly grease the hot pan.
For a 25 cm pan use about ½ a ladle of batter.
It is important to cover the entire pan without gaps.
To do this, take the pan in one hand, carefully wiggle it and ladle the batter. If there are gaps – fill them with a bit of additional batter.
Leave to cook for 40-60 seconds, visually checking for cooked areas to appear.
Carefully lift the corner of a pancake to check if the side is ready
Flip a thin pancake.
Cook until done on the other side.
It also takes about 40-60 seconds.
To ladle the next pancake, remove lumps from the previous pancake and quicky grease the pan with a piece of butter or salo.
Stack ready pancakes on a plate.
Pancakes are ready. Now it's time to make nalysnyky out of them. They are amazing with a sweet curd filling, but I adore pancakes with chicken and fried onion. Make lots of them and additionally fry until golden brown.
If you are a gourmet, you can fill the pancakes with any jam, and the most sophisticated gourmets can simply fold pancakes and enjoy them dipped in condensed milk.
Nalysnyky. Thin pancakes.
Recipe facts
| | |
| --- | --- |
| Nalysnyky: | 15-20 pancakes |
| Calories: | 226 |
| Prep: | 30 mins |
| Cook: | 1 h 30 mins |
| Total: | 2 h |
| Category: | Pancakes |
| Cuisine: | European |
| Rating: | |