Kharcho soup
It is not difficult to prepare kharcho soup at home. It is important only to use the right foods and monitor the process.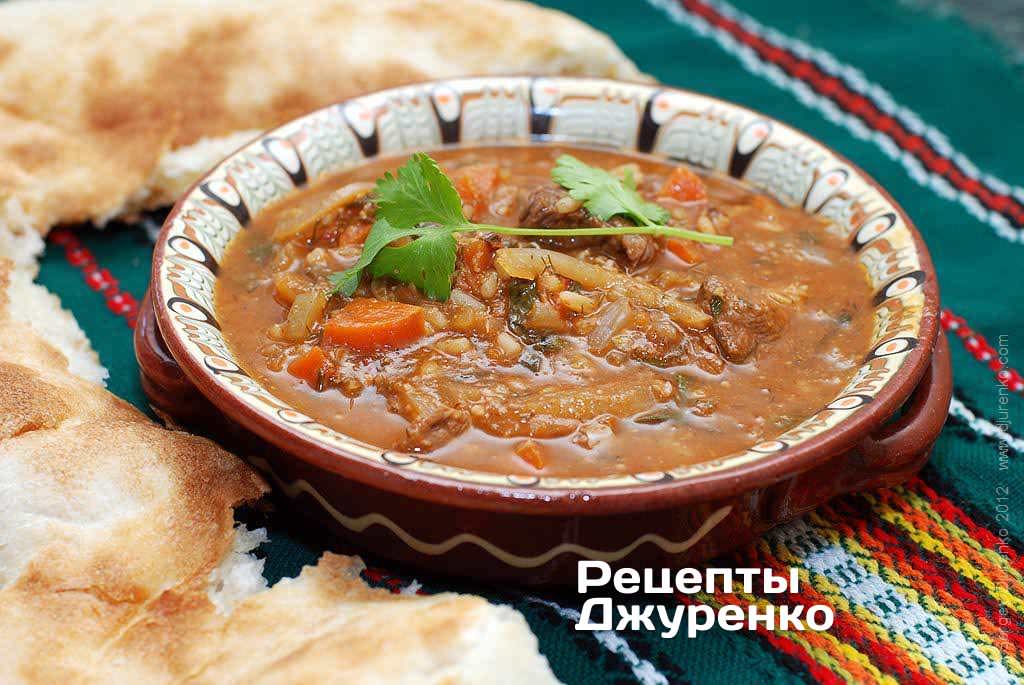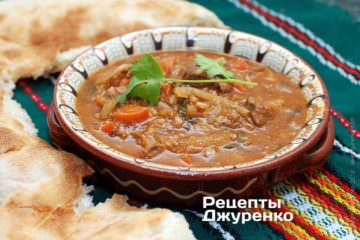 I am wondering, who and when has said that the mutton soup is really made of mutton? It is same as to fill the Olivier salad with sunflower oil. It's so unfair to treat this soup in such a way, and same the Olivier salad. Kharcho – is the Georgian national soup and it is made only from beef.
Usually, when the recipe is being specified, we mean the area of Georgia, from which this recipe has come from. There are Georgian style soups, megrelian style soups and other. But the real meaning of the soup has never been changed — it is a hot beef soup with tkemali and nuts. The soup should be spicy, with the great amount of garlic and herbs. It is much more thicker then those soups we used to know, and there is a rule for cooking it which has never been observed – «It should be half liquid soup».
Nowadays kharcho soup is cooked from different kinds of meat: lamb, veal and even bird's meat. But you can clearly see from its original name that it should be cooked with a beef: harko (cargo რჩოარჩო) – literally: beef soup, «derohis hortzi harshhot».
Kharcho always has an acid base – plum tkemali. While cooking it can be replaced with more usual for us – tomato paste. However, there is an opinion – not to use tkemali, and instead of it to use so-called «sour lavash». Lavash – is not a bread, as many people think. It is a dried pulp of tkemali or dogwood. The puree from fruits is being dried in the sun in the shape of huge cakes – pita breads. They are called – Tklapi (პაპი) – and you should break it into pieces, soak with sauce or add to the soup, or other dishes.
Kharcho often can be found in recipes – Tklapi, piece of palm. The second important ingredient is a walnut.
It is worth saying that in the Caucasus only wine is prepared without walnuts. Walnut is the basic ingredient for the famus Bazaar sauce ( which is not so common for us). But everybody knows Satsivi, which is actually a bird( meat, fish) in bazhe sauce.
Let's back to meat. Better do not add any lamb, pork or poultry. Only fat beef is preferable, or with a bone ( there is enough fat in it too). Kharcho soup with beef! Just like that! You can hear lots of fair arguments about what to add or not to add in soup. But don't forget that Ukrainian borsch soup is totally different in every cooker. Take it easy.
Ingredients
400 g

Beef

1 peace

Garlic clove

1 peace

Carrot

2 peace

Onions

3-4 tablespoons

Rice

1 bunch

large precast mix of dried Parsley, dill, coriander

100 ml

Tkemali (puree)

Up to your taste

Spices (hops-suneli, salt, black pepper)

100 ml

Walnuts
Method of cooking a famous Georgian dish — kharcho soup
Step-by-step recipe
The boiling process is not quick. It takes time and it should be done from your heart. Do not hurry.
There are many talks about the quality of beef. Usually a fat brisket is the best choice. My friend who is familiar with the Caucasus, told me that it is better to cook using a hashlam brisket, and for kharcho – to take a piece of marrow bone beef. It's fatty enough. And he was right. A piece of bone beef matches better. In addition, I want to notice that young veal is worse quality compared to old beef.
In a large saucepan bring to the boil 1.5 liters of water, and put the whole piece of beef in it. Boil for a couple of hours until you get that special, «rich» flavor.
After that – take beef out of the broth, remove all bones, and cut into pieces: large or small – it does not matter. However, I suggest cutting in large pieces. After cutting meat, bring it back the broth.
Peel carrots and onions. Carrots cut into cubes. Onions should be cut into thin strips, along the bulb (not usual way to do it right?). Such cutting method will keep fibers in a bulb, and onions will not torn into a mass during cooking. In the Caucasus, people do not add carrots, so its up to you.
After all these steps, we should add tkemali. It's the most important step! For two liters of soup I suggest adding 2 full tablespoons of mashed potatoes from tkemali. Or cut 100 grams of fresh plum without bones, Or add a soaked piece of 10x10cm tclap. If you don't have tkemali, its ok – you can use tomato paste to add more color. I prefer red kharch so I cannot deny myself of this little pleasure. The broth should have sour taste. However, the acid can be reached with the help of pomegranate juice. After, let the soup boil for 5 minutes and add sliced carrots. And coo 10, minutes more.
Let the soup boil and after 5 minutes add the sliced carrots. Cook the carrot for exactly 10 minutes.

Add the chopped onion, bring to a boil and cook under the lid at low boil for half an hour.
While cooking the broth, you can do a nut filling.
Take half glass of walnuts, carefully taking out all of the shells and other garbage. I suggest frying nuts in the pan, until you get a pleasant aroma. Pounder nuts until you get the oil come out of them.
Clean garlic and pounder it. Better to do it separately from nuts.
Add rice into the soup. When I was a kid, my father used to add rice to the soup in the shape of letter 'X'. Since then I have still an association that the soup with 'X' shape is a grub…. But anyway. Better take long grain rice for this recipe.
10 minutes are enough for rice.
Only after that you can add nut-and-garlic dressing to the bowl. Cook for 15 minutes more. During this time, rice will be ready. Besides – better to turn on the hood or otherwise this aroma will be everywhere. And you neighbors will ask you to treat them with what you are cooking.
Did you noticed? There is no salt neither spicy being added.
You can do that only after 15 minutes after nuts and garlic were added.
Its very common to discuss how many, which spices should be added to kharcho. Usually you need lots of crushed coriander. Also you need pepper, imeretin saffron, bay leaf, chili pepper. Most of the chefs add a Caucasian spicy mix of «hops-suneli». Hmeli-suneli (ხმელი-სუნელი) literally translates as "dry spice". It has no sharp taste, but usually it consists of dry herbs ( basil, dill, mint, hyssop, marjoram, savory), hot red pepper, coriander, bay leaf, fenugreel.

The final composition of «hops-sunels» is very complex, so it can be changed.

My suggestion is to add 1 tsp. of hops-suneli. And in the addition I add 1 incomplete tsp. of coriander seeds, roughly grounded. Only after that you can taste the soup. Now you can decide to add more hot pepper to make it sharp or not to add. If you want to add – just pounder it with seeds.
After adding spices in kharcho, cook additional 5 minutes on very low hit. Strong hire is not good, because this soup is already thick enough and it is easy to burn. Stir it.
Add all finely chopped fresh herbs: cilantro, dill, mint, parsley . I would even say that the more fresh herbs – the better. Simmer for 2 minutes more.
After it is cooked, let the soup cool down for 5 minutes and only after that it is finally ready.
Serve the soup on plates, everyone can add more herbs up to his taste. It is necessary to have a hot lavash, which has just come from the oven. Or so-called «shootis puri» – a thin crescent-shapedvariation of lavash.
Soup kharcho — beef soup
Recipe facts
| | |
| --- | --- |
| | 2 |
| Calories: | – |
| | 15 min |
| | 120 min |
| | 2 h 15 min |
| Category: | Soups |
| Cuisine: | European |
| Rating: | |